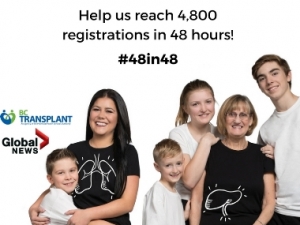 Every year in April, BC Transplant focuses its efforts on sharing stories and raising awareness for organ donation around the province. Have you registered to be a donor yet?
#48in48
BC Transplant is once again be kicking off national awareness week with a 48 hour registration drive. Beginning on Wednesday, April 25 morning, the goal is to reach 4,800 registrations for organ donation in 48 hours! Join the conversation by using the hashtag #48in48 and sharing your wishes about organ donation with your family.
Green Light Campaign
On April 25, watch as cities across the province transform into a sea of green in support for organ and tissue donation. Catch the view and share your photos on social media using the hashtag #LightBCGreen.